Anneleen Spiessens
---
Biography
Anneleen Spiessens is a postdoctoral assistant at Ghent University and is affiliated with the Department of Translation, Interpreting, and Communication. She holds degrees from Ghent University (PhD) and KU Leuven (MAs in Romance Languages and in Literary Studies).
She is the author of Quand le bourreau prend la parole: Génocide et littérature (Droz, forthcoming), which focuses on testimonies delivered by perpetrators of mass political violence during the Holocaust and the genocide in Rwanda. The book is based on her doctoral research and explores the ethical questions raised by these testimonies, examining the relation between discourse and violence, document and fiction. It also aims to take part in the debate around translation and authorship, looking for possibilities for translators to convey their "attitude" towards the perpetrator's discourse without jeopardizing the idea of a "faithful" translation. By disclosing the polyphonic configuration of the mediated testimonies, it further assesses the importance of editorial and/or translational framing as ethical "counterdiscourse."
Anneleen Spiessens has published on testimony and memory in literature, film, and photography, with a special focus on translation. Her current research examines the (self-)representation of opponents in conflict situations (for example in the Ukrainian crisis), and the construction of cultural and political identities in discourse.
Contact
Department of Translation, Interpreting, and Communication / Room B 204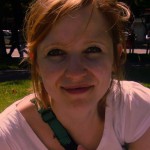 Ghent University
Groot-Brittanniëlaan 45
B-9000 Gent
Belgium
Tel.: +32 (0)497 40 12 07
Email:
Anneleen.Spiessens@UGent.be