Eva Van Hoey
---
Biography
Eva Van Hoey is a PhD researcher in Spanish Literature at Ghent University (2020-2024). She obtained a MA in Modern Comparative Literature at Ghent University and an inter-university Advanced MA in Literary Studies. Her research project "'Ni Una Menos': Gender Violence through the Lens of the Contemporary Latin American Chronicle (1994-2015)" examines the representation of gender violence in the contemporary Latin American chronicle.
In her project, Eva investigates how contemporary Latin American authors use the genre of the chronicle, i.e. a combination of literature and journalism, to denounce violence against women on the continent and to challenge discourses that represent gender violence in a problematic way. More specifically, she analyses chronicles on gender violence in Argentina, Mexico and Colombia.
Eva is a member of Encuentro, the Latin American network in Belgium, and the Human Rights Research Network. Broader research interests include contemporary Latin American literature, genre studies, gender studies, and the (ethical) representation of violence.
Contact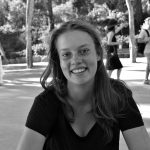 Department of Literary Studies (Spanish) Ghent University
Blandijnberg 2
9000 Ghent
Belgium
Email:
eva.vanhoey@ugent.be