Inge Brinkman
---
Biography
After having finished her studies in History and African Studies, Inge Brinkman received a Ph.D. degree from Leiden University (The Netherlands) in 1996 with a thesis on oral and written literature, identity and gender in Central Kenya. 
Her postdoctoral project from Cologne University (Germany) resulted in the publication of: A War for People: Civilians, Mobility, and Legitimacy in South-East Angola during the MPLA's War for Independence (2005). After a study into the development organisation SNV (monograph: Bricks, Mortar and Capacity Building (2010), Inge became engaged in a programme on communication technologies, mobility and social relations in Africa (https://mobileafricarevisited.wordpress.com/ ). One of the publications was the edition with Francis Nyamnjoh and Mirjam de Bruijn of Mobile Phones: The New Talking Drums of Everyday Africa (2009).
 As of 2014 Inge taught at Ghent University on a part-time basis and carried out historical research within the KongoKing project (http://www.kongoking.org/).
At present Inge works as professor African Studies at the Department of African Languages and Cultures at Ghent University (Belgium). Her fields of research include: African literature, African popular culture, and African history, focusing on book cultures, censorship, autobiography and oral narrative, in the wider context of communication, conflict and public debate in terms of cultural history.
Contact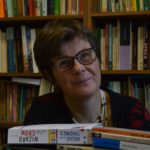 Department of African Languages and Cultures Ghent University Blandijnberg 2 9000 Ghent Belgium.
Visiting address: Rozier 44, basement, room: C01.08.
Tel: +32 (0)9  264 41 65. E-mail: 
Inge.Brinkman@UGent.be