Contact
---
Address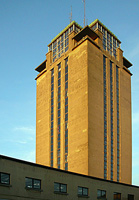 Prof.
Stef Craps
Director, Cultural Memory Studies Initiative Department of Literary Studies (English Section) Ghent University Blandijnberg 2 9000 Gent Belgium Tel.: +32 (0)9 264 37 01 Mobile: +32 (0)496 83 95 71 Fax: +32 (0)9 264 41 79 
Email:
stef.craps@ugent.be
Web:
www.cmsi.ugent.be
  Coordinator internal seminar series:
Catherine Gilbert
  Website and social media managers:
River Ramuglia
and Prof. 
Stef Craps
Directions for Visitors
The offices of the CMSI members can be found in the Faculty of Arts and Philosophy, which is situated in the centre of Ghent, a vibrant medieval city in the heart of Flanders. Located at Blandijnberg 2, the main Faculty building is within walking distance of Gent-Sint-Pieters, the city's main railway station.
By Air
From Brussels National Airport, take the direct train to Ghent (railway station Gent-Sint-Pieters). There is at least one fast train going to Ghent every hour (which takes less than an hour), plus one slow train (which takes an hour and a half; at the weekend this is the only direct train). Alternatively, first take a train to Brussels (railway station Brussel-Zuid/Bruxelles-Midi); there take the fast train to Ghent (with final destination Oostende or Knokke / Blankenberge).
By Car
Coming from the motorway E40 / E17, take the exit Gent Centrum. Exit the flyover by following "Alle richtingen". When the road drops to ground level, turn left at the first traffic lights (under the bridge). Next, turn right at the second traffic lights. If you then go straight ahead, you will come to Sint-Pietersplein, a large square with an underground car park. From there you can see Henry Van de Velde's masterly Book Tower, home to Ghent University Library, which is part of the Faculty complex (see picture above).
By Train / Tram
Most international trains (including Eurostar and Thalys) arrive in Brussels (Brussel-Zuid/Bruxelles-Midi). There you can take the train to Gent-Sint-Pieters (the trains with final destination Oostende or Knokke / Blankenberge). There is a train from Brussels to Ghent every thirty minutes till around 12.30 a.m. The journey from Brussels to Ghent takes about half an hour.
There is also a direct train connection from Lille (France, station Lille Flandres) to Ghent. Be careful: get off in Gent-Sint-Pieters, not in Gent-Dampoort.
Outside the railway station Gent-Sint-Pieters there are numerous stops for buses and trams to the centre of Ghent. To get to CMSI, take tram 1 in the direction of Korenmarkt. Get off at Sint-Kwintensberg, and follow the road upwards between coffee bar Illy and snack bar 't Hoeksken (the street is called Sint-Kwintensberg). The Faculty building is on the top of the hill, on your left-hand side.