Maaheen Ahmed
---
Biography
Maaheen Ahmed is a Flemish Research Council (FWO) postdoctoral fellow at Ghent University's Department of Literary Studies. She has held fellowships at the Université catholique de Louvain and Jacobs University Bremen, where she obtained her PhD. The thesis transposed Umberto Eco's theory of openness to the workings of a culturally and thematically diverse set of comics. A book version of the thesis is currently under review.
Her second major project explored monstrous protagonists in comics and traced their genealogy to the monsters taking the centre stage in Romantic literature and visual arts.
Her current project is on trauma in contemporary comics relying on a broad definition of trauma to encompass the aftermath of large-scale events (the two world wars, 9/11) as well as the reverberations of psychological damage in difficult personal situations.
Contact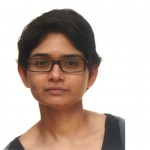 Department of Literary Studies/ Room 130.029
Ghent University
Blandijnberg 2
9000 Ghent
BelgiumTel: +32 (0)9 264 36 55
Fax: +32 (0)9 264 41 79
Email:
maaheen.ahmed@ugent.be